Dr. Daniel A. DelCastillo, D.M.D.
Dentist Miami Beach
DURAthin Veneers


DURAthin veneers are very thin porcelain veneers designed to adhere directly to the front of teeth without removing any enamel. This means that for some people, we can design the smile of their dreams without even drilling on their natural teeth.
Miami Veneers Teeth

DURAthin veneers require little to no removal of your original tooth. The procedure is painless and, in most cases,reversible. They offer fantastic looking results that won't cause sensitivity problems.

Traditional veneers require significant removal of the tooth, which often entails an invasive process and results which are permanent and could increase tooth sensitivity.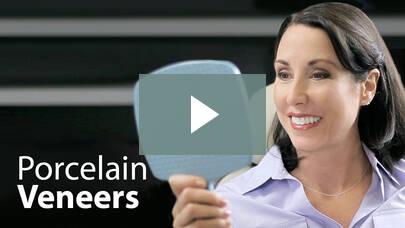 Are DURAthin veneers as strong as other porcelain veneers?
DURAthin veneers are very delicate when they are being made, but when they are bonded to the hardest outer shell of a tooth, they take on the strength of the tooth, plus the added layer of porcelain. After the adhesion process, no-prep veneers are incredibly strong and durable.
Will my teeth look thick and bulky?
DURAthin veneers are designed by talented artisans to emulate natural teeth. With appropriate contours and beautiful shades of porcelain, they can look and feel like real teeth.
How do I know if I am a good candidate for DURAthin veneers?
Not every smile is a good candidate for DURAthins. Chances are, if you teeth look small or your smile seems narrow, DURAthin veneers might be a great choice for you. Only a trained and certified provider will know if the DURAthin approach is right for you.
What if I want to have them removed?
Since none of your natural tooth structure is removed, DURAthin could be taken off with no visible damage to teeth. So if you choose to, you can return to your old smile by having the layer of porcelain carefully removed.
Common problems that can be corrected using DURAthin veneers:
Brighten Color
Spacing
Narrow Smile
Small Teeth
Related Porcelain Veneer Articles
Smile Design Enhanced with Porcelain Veneers
In part two of the series on Smile Design, Dear Doctor takes an in-depth look at Porcelain Veneers, a superior yet minimally invasive technique for smile enhancement. We'll explain not only when they're appropriate, but also when they're not... Read Article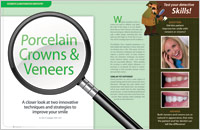 Porcelain Crowns & Veneers
A closer look at two innovative techniques and strategies to improve your smile. In many instances these two restorative techniques can produce nearly identical esthetic results, even though they are structurally different... Read Article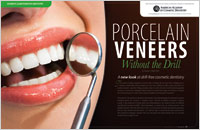 Porcelain Veneers – Without A Drill
No drilling — reality or ridiculous? A no-drill technique requires a second look, as new materials and concepts have created new esthetic possibilities. Reactions and opinions among dentists have ranged from absolute disbelief to moderate acceptance. This article gives hope and reasons for patients to get excited about this conservative drill-free cosmetic technique... Read Article
Copyright © 2018 Miami Beach Dental Care