Dr. Daniel A. DelCastillo, D.M.D.
Dentist Miami Beach
White Dental Fillings Miami
Natural looking restoration
When a tooth has a cavity or you need to replace a worn filling, a natural-looking white restoration can be a beautiful choice.
Advantages
White fillings have several advantages over silver fillings.
They are bonded to your tooth; making it stronger than if we used a silver filling.
We do not have to remove as much tooth structure as with a silver filling.
The bonding agent can insulate your tooth from extremes of hot and cold.
Some white restorations can be done in just one visit.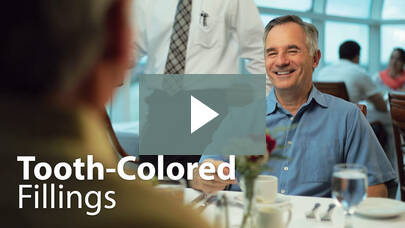 Miami White Dental Fillings
Procedure
After we remove the decay, we build layers of the resin directly onto your tooth. We use a special light to bond the resin to the tooth for strength.
A larger cavity may need an indirect restoration. We remove the decay or the old, worn restoration. The new restoration will be created in the lab to precisely fit your tooth.
Once crafted, we bond the restoration to your tooth for strength, it takes two or more visits to get this kind of restoration.
White fillings can be a great choice to give you healthy teeth and a beautiful, natural-looking smile.
Resin Fillings
Resin fillings are a great way to restore your back teeth. Because they bond directly to teeth, they provide the added strength that damages teeth need to withstand frequent biting pressure. Also, we can match the color of the resin to your teeth to preserve your beautiful, natural-looking smile.
The procedure
We want the entire procedure to be comfortable for you, so the first thing we do is make sure that the tooth and surrounding area are thoroughly numb. Depending on the size of the filling and which tooth we're working on, we may also use a rubber dam.
A rubber dam is a small, flexible rubber sheet that isolates the teeth we're working on and prevents anything from falling to the back of your throat.
We use the handpiece to remove the decay and shape the tooth. Then we apply a gel that chemically roughens the tooth surface to ensure a stronger bond with the resin filling. To mold the filling to the shape of the tooth, we first surround the tooth with a thin, flexible band. A small wedge between the teeth holds the band snugly in place. Once we've placed the resin in the tooth we use a harmless, high-intensity light to harden the filling.
After the filling has set, we smooth and polish it. We check the bite with colored tape that shows us where your teeth are touching. Finally, we make sure that you'll be able to floss around the filling to keep your teeth plaque-free and healthy.
Related Fillings Articles
The Natural Beauty of Tooth Colored Fillings
The public's demand for aesthetic tooth colored (metal free) restorations (fillings) together with the dental profession's desire to preserve as much natural tooth structure as possible, has led to the development of special "adhesive" tooth colored restorations... Read Article
What is Tooth Decay? – And How to Prevent It!
Tooth Decay is an infection, and many people don't realize that it is preventable. This article is the first in a series about tooth decay, perhaps the number one reason children and adults lose teeth during their lifetime. Explore the causes of tooth decay, its prevention and the relationship to bacteria, sugars and acids... Read Article
Tooth Decay – How To Assess Your Risk
Don't wait for cavities to occur and then have them fixed — stop them before they start. Modern dentistry is moving towards an approach to managing tooth decay that is evidence-based — on years of accumulated, systematic, and valid scientific research. This article discusses what you need to know to assess your risk and change the conditions that lead to decay... Read Article
Copyright © 2018 Miami Beach Dental Care